CS-P260C Par Can
Color Sage Lighting Electronics Limited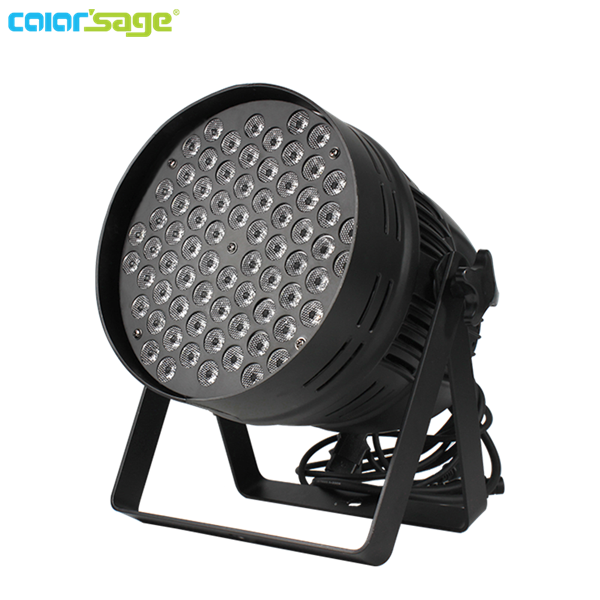 Master/Slave * Sound actived * Automatic * DMX 512
Rainbow effect / 0-100% smooth dimming / Stepless regulation of mixed color effect / Strobe effect (strobe speed controllable)
CS-P260C is a widely used par light, 72pcs 3W LEDs, the total power is 270W. This lamp has three colors to choose from: RGB 3 in 1, RGBW 4 in 1 and RGBA 4 in 1.
The use of high-quality aluminum shell compression, light weight fast heat dissipation, with double handle design, this light can be hung up for use or flat to use. Built-in a variety of self-propelled procedures, and macro effects, Promise color mixing system, the lighting effect is clear, uniform spot.
Bright rainbow effect is the advantage of this product, with smooth dimming function, this lamp is commonly used: stage lighting, outdoor flash activity lighting, bar lighting effects rendering and store lighting and so on.
If you want to learn more, please contact customer service, you can also contact info@color-sage.com
For more information, you can follow our Facebook.
Thank you for your attention!
Model NO.:

CS-P260C

Specifications

LED Quantities

72pcs 3W LEDs

Life Span

50,000 hrs

Input Voltage

AC90-260V 50/60Hz

Power Consumption

270W

Material Science

Alloy

Function

Control

1. Master/Slave,
2. Sound actived,
3. Automatic,
4. DMX 512.

Color

RGB 3 in 1
RGBW 4 in 1
RGBA 4 in 1

Effect

1. Rainbow effect
2. 0-100% smooth dimming
3. Stepless regulation of mixed color effect
4. Strobe effect (strobe speed controllable)

Channel

7 USITT DMX-512 channels for RGB 3 in 1
8 USITT DMX-512 channels for RGBW 4 in 1
8 USITT DMX-512 channels for RGBA 4 in 1

Display Screen

LCD display
RELATED PRODUCTS
We've given the 880™ Series the best of everything, including customer-favorite features that make owning a
Sundance® spa easier than ever.